All Major Credit Cards Accepted
LONG ISLAND GARAGE DOOR SPRING REPAIR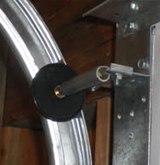 Long Island Garage Door Repair all types of springs, whether it's an extension spring, torsion spring, heavy duty spring, commercial and residential.
We know that most people believe or might assume that the garage door opener is the main part of the safety and security operation of their garage door. While garage door openers do play a big and an important part of the garage door opening and closing, and can lock down the garage door as well tightly for security, they still do not perform the actual heavy lifting of heavy doors which can weigh up to 600 pounds and even more. That's where comes the spring system which completes the heavy lifting work, so the weight and fully control of each movement of the garage door is safely handled.
Our garage door company in Long Island STRONGLY does NOT recommend that you repair a spring on your own. Even if you know a lot about the mechanics of the garage door as well as the parts, it is best if you have a licensed professional repair, replace or install a new spring. Although you may be tempted to go to Home Depot and Youtube how to do it yourself to save some money you run a high risk of injuring yourself and/or people around you. Even if you don't get hurt there is a possibility that a job was not done or inspected correctly which can cause more damage than the original condition it was already in. Long Island Garage Door has an experienced 24 hour emergency service team with the fastest turnaround response in the entire borough of Long Island and will be more than happy to assist you.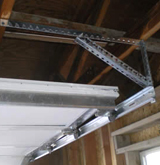 Many believe that it is the garage door opener that allows the garage to open and close smoothly however, the springs actually do. The springs do all the heavy lifting. Long Island Garage Door provides services for springs like spring repair, spring replacement, spring installation and spring conversion. Our technicians make sure the springs are installed securely and don't leave until they make sure everything is done correct and safely.
Call us today at (516) 303-1599
Our services include:
Double torsion alternative springs (for heavy doors), single torsion alternative springs (for lighter doors), one-piece garage door springs, extended lifespan torsion spring (for commercial use), converting extension springs to torsion springs, converting a non-standard garage door spring, completing adjustments after spring alternatives, garage door balance operation, tightening and aligning all elements, lubrication of all moving parts and garage door opener function. We complete our Spring Substitutes using High Cycle Oil Tempered Springs.
Our highly qualified licensed professionals work on all types of doors commercial & residential:
Wooden Doors
Rollup Doors
Steel Doors
Overhead Doors
Steel Doors
Vinyl Doors
Glass Doors
Loading Dock Doors
High Speed Doors
Walk-Thru Doors
Carriage House Doors
Thermal Insulated Doors
One-Piece Curtain Doors
Counterweight Doors
High Security Doors
Call us today at (516) 303-1599
ANY PART OF THE GARARAGE DOOR CAN BE INSTALLED OR REPAIRED! THERE IS NO GARAGE DOOR THAT WE DO NOT DO.
GIVE US A CALL NOW AND WE'LL GIVE YOU 10% OFF!
Replacing a spring is a very dangerous job; don't try to fix it yourself call Long Island Garage Door. Our prices are very affordable and we always have technicians available all over different parts of Long Island. Whether you're in Hauppauge, Levittown, Manhasset, Shirley, Holbrook, Smithtown, Ronkonkoma, Syosset Central Islip, Brentwood, Deer Park, Hicksville, Westbury, Great Neck, Hempstead or even borderline Queens, we will be there within the hour. We service all parts of Nassau and Suffolk County. Our technicians respond 24 hours, 7 days week for emergencies. Don't cause more potential damage to your garage by trying to fix it yourself, just call Long Island Garage Doors and we'll send someone over to you for a reasonable price.